Bofore


After



The instrument panel is now completed, and the plane is on tour, check out the AOPA webpage and find out where you can see the AOPA Win-A-Twin Comanche



204WT in flight, with tom Horne at the controls

Completed aircraft photos courtesy of AOPA, Mike Fizer
The AOPA Win-A-Twin Comanche has arrived at our shop on 4/29/04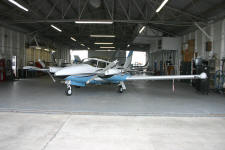 First order of business - seats and most of the interior comes out to facilitate removal of the existing autopilot, electric trim, & antenna coaxes. Next, the avionics, avionics wiring and all instruments are removed from the panel. Now we inspect/clean/repair/replace as necessary the remaining wiring, switches & controls. Nearly 40 years of use, changes, repairs and addition of 'gadgets' has left the aircraft wiring with need for some TLC. We are also rerouting the factory wiring as necessary to relocate the main circuit breaker panel from the floor to the copilots panel.
Creating Panels that fit over a pre-existing panel structure is a little tricky. We've Created templates, and have drawn out the whole panel on our CAD software. After knowing exactly what we have to work with, we can draw out plans for the panels that we are going to make. The drawings that we have come up with will display a uniform look, and it gives a logical placement to each instrument. Moving the circuit breakers from the trap door to the panel is also a factor. We have to create enough space to fit all of the circuit breakers in the already crowded instrument panel.
Although the Comanche's radio stack is very strong by design, it is not friendly to changes in avionics. The factory installed nutplates, to mount the original radios, in the braces that extend to the firewall - no adjustability and clip-on type nuts are not an option. The most 'elegant' solution? Radiorax machined aluminum radio rail mounting system. Although they involve a bit of work to install, they are infinitely adjustable, strong and STC'd.
The pilots panel has been cut & fitted with the copilots side to follow soon.

Watch our mill in action. Click Here
Quicktime Movie 1.7mb
Installation of the new panels has begun.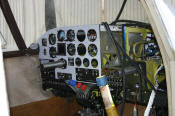 Panel installation has been completed, and now we are waiting on backlit panels for the switches, heater controls, and circuit breakers to complete the panel renovation.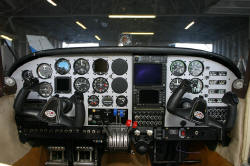 The backlit panels have arrived, the same day Tom had to leave to take the airplane to the AOPA Fly-in - so no time to install them now. It will go to Airtex after the fly-in, to get a new interior, then it will come back to us for the completion of the instrument panel renovation.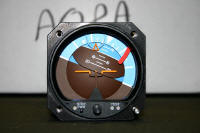 7/8/04: The interiors done so Tom made the 5 hour flight from Maryland to Merritt Island to let us complete the job. While the aircraft was away, Mid-Continent sent us one of their new electric attitude horizon gyro's with the internal battery option - so we installed this unit along with the custom made E.D.N Aviation, Inc. backlit labels.